It's the good part of summer right now, the part where it's warm and sunny and the days are long but it hasn't gotten too humid out. I went on a nice bike ride yesterday morning along a route I used to take years ago when I first moved to Brooklyn that I haven't done since. Truthfully I have not been riding my bike as much as I used to (and I used to ride it EVERYWHERE). I am constantly amazed by how quickly this city evolves. The thing that was once another thing is now a new thing. I also forget how different it is on foot versus cycling versus in a car versus a bus versus the subway.
On this particular ride, I went from Brooklyn Bridge Park to Domino Park, neither of which existed when I first moved here. My first destination was Brooklyn Bridge Park. It was a quiet morning and the only other people out were the runners, and parents with young kids. The park is nice, if a bit sterile since it's so new. There's a bike lane that runs through it, but like many bike lanes in New York, it's more of a suggestion (that is usually rejected) than a dedicated space for cyclists, since most of it isn't physically divided from pedestrian areas. It's still a decent ride between trees and water if you go slowly enough, though, with great views of downtown Manhattan.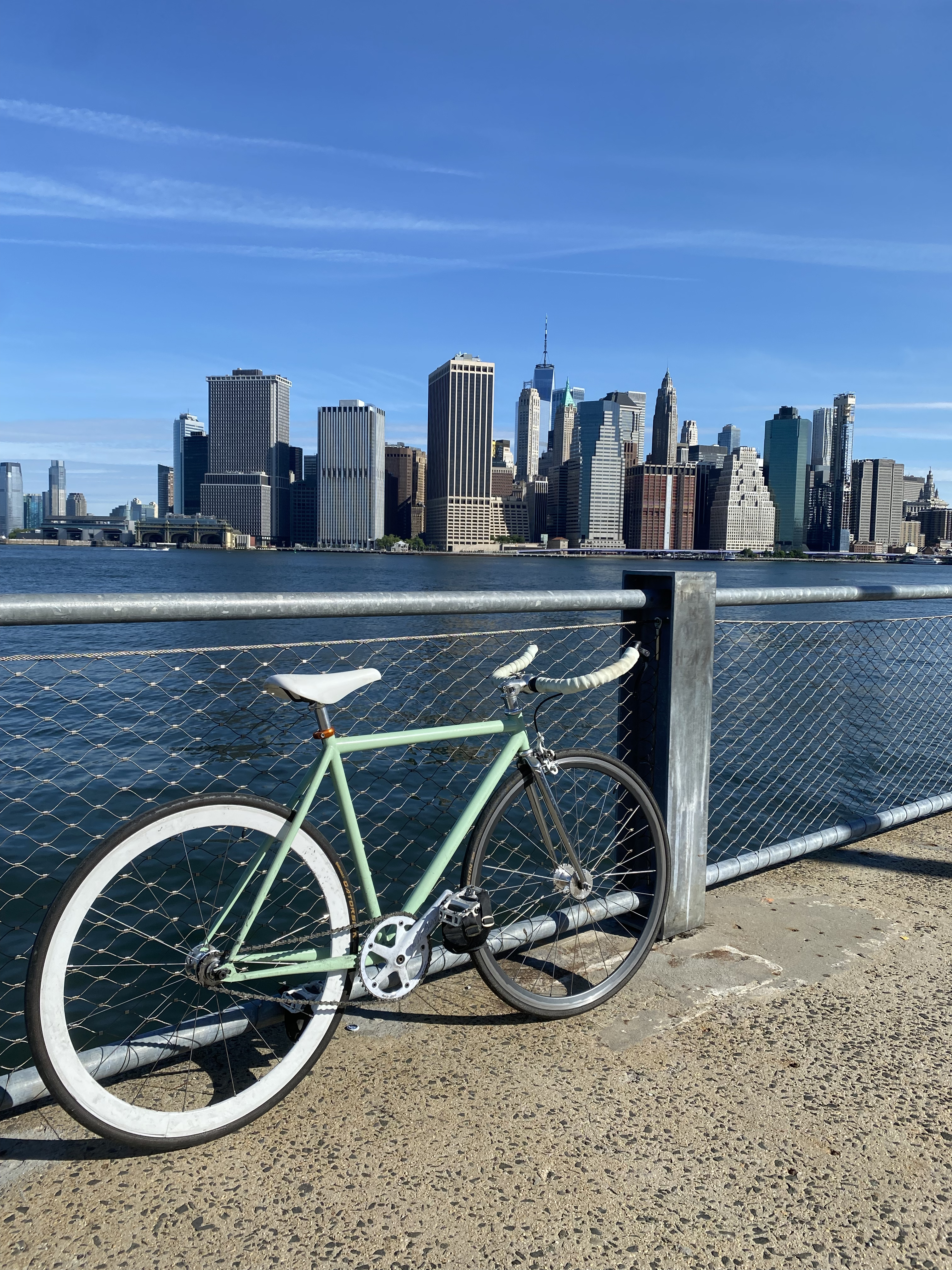 My next destination was Domino Park in Williamsburg. The ride along Kent Avenue past the Navy Yard is one I used to do several times a week. There's now a protected two-way bike lane along most of it, which makes it feel somewhat safer. (I remember riding home at 4 am from Williamsburg during my years of maximum poor judgment and it is definitely safer than that.) There is also a giant Wegman's, which I remember hearing that people were very excited about (I did not go inside but it looked more like a compound than a grocery store from the outside).
Even with a fancy bike lane, that part of the ride still felt somewhat industrial, although the Navy Yard seems a lot more buttoned up these days. Even the shipping containers were kinda cute.
I stopped at Domino Park, which is even newer than Brooklyn Bridge Park, and sat on a bench in the shade overlooking the East River. I've only been there twice and both times I didn't feel I was meant to stay there long. Maybe because it's a long, narrow park. Or because I've never really felt totally welcomed in Williamsburg (why else was I booking it out of there at 4 am?).
Anyway, it was a nice way to spend the morning, and got me excited about riding my bike around the city this summer!